January 2020: Featured on Nikkei
MIJ Labo was featured in a recent article at the Nikkei newspaper website.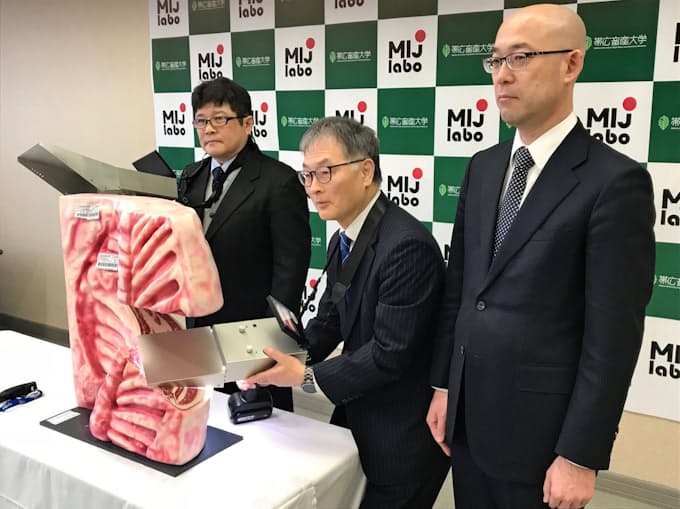 The translation of the newspaper article is as follows:
MIJ Labo (Obihiro City, Hokkaido), a venture company from Obihiro University of Agriculture and Veterinary Medicine, announced on April 11 that it launched a new service to evaluate the quality of marbled Wagyu beef meat. The cross-section of a beef carcass is photographed with a special device, and the images are then analyzed to assess meat quality. This service automates the work previously done visually by specialists, leading to labor savings and stable quality evaluation. The company expects to generate approximately 200 million yen in sales in 2022, with the meat quality analysis business as the core business.

The system consists of a dedicated camera and software that analyzes images. The system determines the quality and grade of beef based on the marbling area and the meat's color. The system uses a camera to photograph cross sections of beef carcasses, corrects the angle and brightness of the images, and stores them in a database. Images can be viewed on the cloud, and artificial intelligence (AI) can be used to increase the accuracy and speed of analysis and automatically extract the desired data.

The system is expected to be connected to livestock producers and meat distribution and processing companies to share image data for efficient production history management and inter-industry transactions. The imaging equipment is priced at approximately 5 million yen, and the analysis cost is 1,000 yen per case. The company will sell the equipment to livestock-related testing institutions, meat distributors, and processors.

The company was established in November 2006 with a capital of 9.8 million yen. The company was privately funded by Representative Director Atsushi Kano, Obihiro University of Agriculture and Veterinary Medicine Professor Keigo Kuchida, and other executives. Noboru Inoue, vice president of the university, said, "We hope to utilize the university's research seeds to contribute to the local community and related industries."
For the full article in Japanese, check it out here.